Join the Peel Food Action Council (PFAC) for the inaugural Peel Food Forum. We invite the community, consumers, producers, businesses, the health sector, environmental activists, educators, the hunger relief sector and all those who believe food is a right to join us in supporting just, secure and sustainable community food systems in the Region of Peel.
Participate
Peel Food Forum: Building Community Food Systems
October 27th, 2020 | 10:00 AM to 12:00 PM
A collaborative space will allow consumers, businesses, producers, and the health, environmental, education and hunger relief sectors an opportunity to share food system challenges, opportunities and solutions that acknowledge the complexities and interconnectedness of food systems and food justice.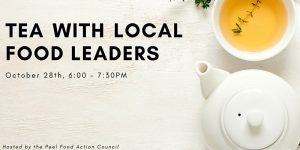 Tea with Local Food Leaders
October 28th, 2020 | 6:00 PM to 7:30 PM  
Grab your favourite beverage, or order some local and organic tea* (free of charge), and join the Peel Food Action Council (PFAC) for its inaugural community food event!
We will be speaking with local food leaders to learn more about food security and food justice in and around Mississauga, Brampton and Caledon. PFAC will also be introducing it's strategic plan and attendees will have an opportunity to provide input and ideas for action items.
Learn
Want to learn more about food systems in the Region of Peel? Check out these resources. 
Read:
Peel Food Charter

(Peel Poverty Reduction Strategy Committee) – a living document created through community input to guide practices, policies and priorities in achieving food security.

Peel Food Map

(Region of Peel) – scan of a variety of food services and food programs.

Peel Poverty Reduction Strategy

(Peel Poverty Reduction Committee) – strategy to mitigate and reduce the impact of poverty on residents, with a focus on income security, economic opportunity, and well-being and social inclusion.

Household Food Insecurity

(Region of Peel) – explanation of food insecurity and statistics for Peel.

The Face of Hunger in Mississauga

(The Mississauga Food Bank) – provides food access and security statistics for Mississauga. 
Watch:
Listen:
Plug In To Grow

 (Ecosource) – Youth from Mississauga explore the stories, people and drivers that are shaping local food, urban agriculture and sustainability in Peel.

The Racist Sandwich

 –

Toronto mini-series (The Racist Sandwich, Foodies of Colour, Hywel Tuscano, Paul Taylor, Suresh Doss, Vanessa Ling Yu) – episodes 63, 64 and 67 highlight topics of food systems , culture and food justice in the GTA. 
Teach
You don't need to be an expert to talk to your friends and family about food systems! Sharing one fact or tip is a great way to start the conversation! Help spread the message of a just, secure and sustainable food system for Peel on social media with our social media campaign! Follow the steps below to participate – 
Take a picture, video, IG reel, or tiktok of anything food related! It can be a sketch of your favourite vegetable, a picture of a dish you cooked, a video of your garden or a picture of you food shopping. Get creative!

Download our graphic series here. 

Share your picture/video and the graphic series on social media and tag 

@peelfoodcounci

l and/or #foodisaright

Anonymous contributions, or if you don't have access to social media, you can email it to

info@peelfoodcouncil.ca

and we'll feature you on our platform!